The past week has been full of ups and downs. I can't seem to find a way to be even-keeled when opportunities present themselves. I get so excited, and then when things don't pan out, I crash. I always tell myself, "Christi, don't get too excited because this might not happen." But all I can think of is what could happen if this opportunity happens. Submitting to God's way is not an easy thing to do.
I've always been an all-or-nothing kind of person. I don't want to waste time. Wasting time is a big pet peeve of mine. I don't know if it's because I've worked with several male managers and men get right to the point; or if it's because I'm very aware that life is short. It drives me crazy if a meeting or a conversation is going in circles. Or if there's only small talk taking place. Or if I feel like I'm not able to add anything to where I am. It makes me want to leave because I know I could be useful elsewhere.
To be completely honest, I get frustrated with God during the waiting seasons. I often think, God, what are you doing? Why am I still here? Why don't you have more for me to do? I feel like I'm doing nothing, but You keep allowing doors to close or You're not opening another door I have earnestly been praying for You to open!
But this week, I was reminded of a few important lessons:
1) God cares more about renewing my mind than revenue. (Although He always provides in such creative and amazing ways)
2) Restoring my soul than my status.
3) Building my character than my career.
God doesn't waste time. He uses the time to mold us into who He wants us to be. And, He can do more in a second than we could do in a lifetime.
God knew I was going to feel like I was sucker punched when another door closed, but He had already planned a reminder to help me through the tough news. He reminded me again that He's in charge and He has a plan.
We plan, but God establishes our steps, but He establishes our steps — in His timeframe. God beats to the rhythm of His drum; yet, I find myself wanting Him to beat to the rhythm of my drum.
"But who are you, a human being, to talk back to God? "Shall what is formed say to the one who formed it, 'Why did you make me like this?'" Romans 9:20
"Our God is in heaven; he does whatever pleases him." Psalm 115:3
God has the plans. I just need to follow the steps. The second step won't appear until I take the first one. He is in control. Time is not an issue for Him. I often remind myself that Sarah was "past child-bearing years." When I think I am behind, I remind myself that God's timing is His own. Nothing is an issue for Him. He knows exactly what is ahead and what you and I will need. Sometimes I wish He gave me a little more information on where we are headed, but we wouldn't build the faith He needs us to have.
Today, my Mom brought this to my attention:
So, as the saying goes: until He opened the door, I'll praise Him (with this song) in the hallway.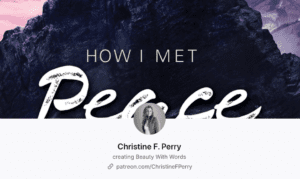 Discover Christine's Patreon for more content!